CTL CAN SOLVE EVEN THE MOST COMPLEX FAILURE PROBLEMS
When a structure, material, or product does not meet its intended function or expected life, it is considered to have failed.  Failures can result in personal injuries, property damage, loss of production, repair expenses, and damage to reputations.  Failures are unfortunate events, but they can provide an opportunity to learn from what happened so that remedial action can be taken to prevent future failures.
CTL has a team of experienced, multidisciplinary personnel backed by fully equipped laboratories to analyze and solve even the most complex failure problems.
PREVENT FUTURE FAILURES
When conducting failure analysis, CTL's Forensic Engineering team initially performs an in-depth investigation into the circumstances surrounding the failure and obtains any relevant background information.  This information is then used to identify the issues and expertise required.  Metallurgical, materials, mechanical, geotechnical, roofing, and civil engineers along with chemists, architects, surveyors, technicians, and other specialists are available to assist with the investigation, depending upon the type of failure and materials involved.
Our engineers will work directly with you to explain the failure analysis process, discuss the findings, identify the responsible parties, and make recommendations to prevent future failures.  A comprehensive, written report is prepared to document and explain the investigation, findings, and opinions.
Our engineers and specialists come to CTL with backgrounds and experience in a wide variety of industries.  All of the engineers involved in failure analysis work are also active with testing and consulting responsibilities at CTL separate from failure analysis services.
This "real-world" experience makes us uniquely qualified to provide insights into the causes of failures.  No two failures are precisely alike, but chances are that we will already have relevant experience with the material, component, structure, or application involved in your failure.
When failures are involved in claims or litigation, insurance companies and attorneys can depend upon the thoroughness, objectivity, and accuracy of a CTL investigation to present their cases more confidently and effectively.
The types of failed structures, materials, and products that we have analyzed are too extensive to list here, but some examples are shown below.
Dams
Corrosion
Fasteners
Weldments
Storage tanks
Roof collapses
Lot pavements
Retaining walls
Retaining walls
Medical devices
HVAC equipment
Building collapses
Concrete structures
Vehicle components
Piping and plumbing
Roadway and parking
Building envelope leaks
Structural steel and wood
Equipment and machinery
Paint, coating and plating systems
OUR THOROUGH INVESTIGATIONS SAVE CLIENTS TIME AND MONEY
We work on failures from microscopic particulate contamination in a product to the collapse of multi-story buildings. Through our multidisciplinary approach, we determine how and why the failure occurred and focus on the root cause. We can quickly and cost-effectively address your concerns and give you a thorough, competent investigation.
DECADES OF EXPERIENCE AND TRUST IN THE FIELD
Our forensic engineering team is recognized as some of the most trusted in the field with decades of hands-on experience performing failure analysis across many sectors.
We give you the facts you need to solve your case and communicate with nontechnical professionals what happened and who is liable.
Call us today to discuss your failure analysis case and our failure analysis capabilities.
RELATED BLOGS
How Expert Forensic Engineering Gives you an Edge in a Lawsuit—At-Fault Parties in Building Investigations
4 Ways an Expert Forensic Engineering Team Can Help Insurance Agents Manage Risk and Settle Claims
Forensic Engineering Solves Culpability Question in Water Damage Cleanup
DOWNLOADABLE BROCHURES
RELATED CASE STUDY

Forensic Engineering Solves Plumbing Failure Mysteries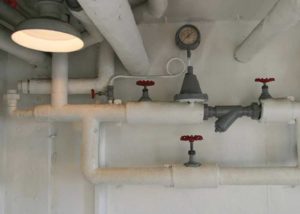 Plumbing failures are rarely pleasant. Water can cause significant damage in a short period. Additionally, leaking water pipes can allow potentially harmful contaminants into drinking water, and untreated sewage flooding a home or workplace often renders it unfit for occupancy.
Structures lost to water damage become costly liabilities, often triggering complex litigation that boils down to a simple question: Who's to blame?
Ask THe Expert

Greg DuBois
Location: Columbus
Direct Dial: +1 614-824-3512