October was ESOP Month!  And we like to celebrate our employee-ownership with a month-long celebration that focuses on our employee-owners and their communities.
Here's how CTL celebrated:
AN ESOP-STYLE BREAKFAST
What better way to appreciate our employee-owners than with food!  We kicked off ESOP month with and ESOP-style breakfast, Eggs, Sausage, Orange juice, Pancakes from Bob Evans.
COMMUNITY APPRECIATION
This year we chose to appreciate the Ronald McDonald House of Charities.  While each branch contributed in a different way, at the Columbus locations, we collected money to make toiletry kits for families who are staying at the RMH to stay close to their hospitalized child.
In fact, our support was so generous that in addition to the 40 toiletry kits, we were able to purchase 5 pack-n-plays and 5 waterproof mattresses!
Thanks to all of our employee-owners in all CTL offices for making a difference!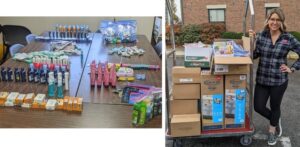 EMPLOYEE APPRECIATION
During Employee Appreciation Week, we sent each employee an insulated cup as a way to say "Thank You!"  We believe that the true value of CTL is our hard working employees.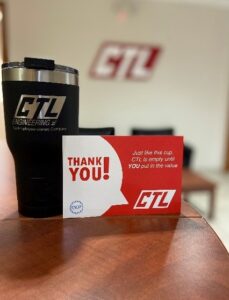 THE RETURN OF THE CHILI COOK-OFF and PUMPKIN COSTUME/CARVING CONTEST
Our annual chili cook-off is back and everyone had fun participating.  Nothing beats bonding over warm chili, good stories, and a little competition.
We also got some creative entries for the Pumpkin costume/carving contest.